Multi-room tents that have a porch are great for camping, especially with groups, but it can be difficult to choose the perfect one to meet your needs. If you're looking for a type of tent that meets your family's needs for your next camping trip, don't worry. We've got you covered.
Let's take a look at the options
Best Multi-Room Tents with Porch
1. Ozark Trail 10 Person Tent
With a total area of 315 ft² of living space and enough headroom for most folks to stand in, this 10-person Ozark Trail is one the largest multi-room tent with porch options on the market. The tent features three separate sleeping areas, thanks to the two separate room dividers.
The multiple rooms make this 10-person tent ideal for large families and groups of people, or for a base camp for an extended stay.
Now, the weather doesn't always go to plan when we go camping but that won't be an issue with this tent. It features a seam-taped rainfly to keep everyone dry and protected in light summer showers. If it's sunny and warm, then the zippered windows allow you to keep cool, while still remaining protected from bugs thanks to the mesh windows and screened porch area at the front.
Like most tents on this list, it's not great for very cold weather, but for summer adventures this makes an excellent place to end a long day of hiking, backpacking, or just enjoying the outdoors with your loved ones.
2. Ozark Trail 12-Person 3-Room Instant Cabin Tent
This is a large screened multi-room tent for families who want ultimate comfort.
This 3 room cabin tent is a HUGE instant multi-room tent that can be set-up in under two minutes! So, if you need a large family cabin tent to get the whole gang together for a camping trip, this is our first choice.
The tent measures 16' x 16' total, with three bedrooms that provide enough space for up to twelve sleeping bags or three inflatable queen-sized air mattresses. It's really is a pop-up cabin!
The high-quality fiberglass poles are light but strong and help keep setup time to an absolute minimum. A total beginner could set up this tent quickly and with no problem.
Although large and comfortable, this 12 person cabin tent is not suitable for winter camping. Instead, think of this tent as the perfect choice for warm-weather camping. It comes with seven large windows that can be opened and closed to let air in and out, as well as a ground vent. It works well in wet weather too, thanks to the waterproof fabric and factory-sealed seams.
It also comes with heavy-duty guy lines that make the tent, while not totally weatherproof, certainly more able to stand up to windy weather conditions.
Inside, campers will appreciate the internal storage pockets with the Ozark Instant Cabin tent as well. It comes with multiple pockets and areas to store your essentials and keep everyone's gear separate, which can be a hassle in any campsite but especially when you're with a big group.
Overall, its size, excellent carry bag, easy setup, and detachable awning/porch all make it one of the best large tents for families or any other large group.
3. Texsport Highland Three-Room Family Tent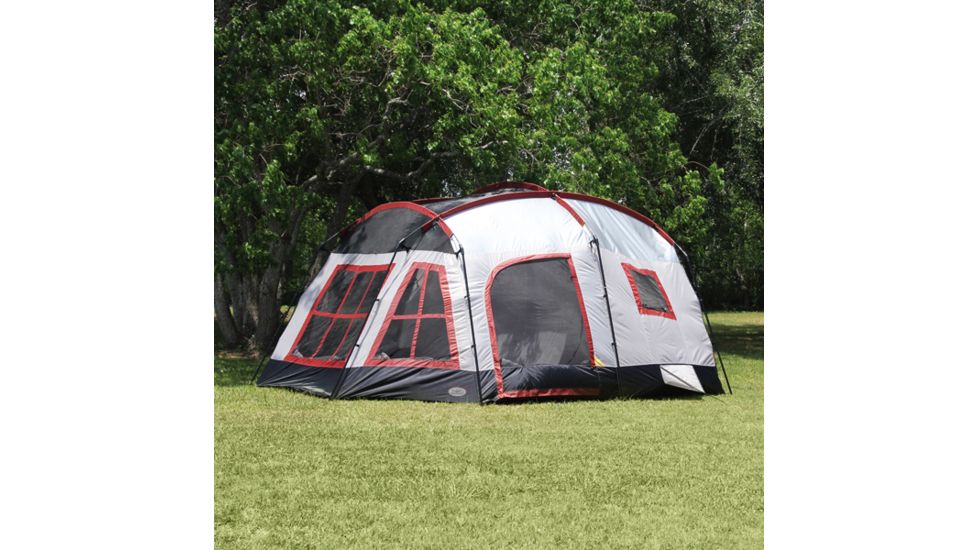 This eight-person instant cabin tent is perfect for families with multiple children and has two rooms that are separated by a removable divider. It's a popup-style instant tent so the poles come pre-attached to the tent which makes setup a breeze.
The poles are fiberglass with a hollow core and the polyurethane-coated taffeta walls and floor are extremely water-resistant and will withstand some heavy rain, while the zippered windows with no-see-um mesh will help keep you cool in the summer and free from bugs.
The large screen room area is great as a mudroom or just for a place for you to sit and enjoy a cup of coffee in the great outdoors without being attacked by mosquitoes and other pests first thing in the morning. Inside, you'll find attachment points for a gear loft, lanterns, or what have you, along with multiple internal storage pockets to keep your family organized.
You can fit multiple airbeds inside, which makes it one of the best tents for family camping, and this dome tent's tall center height and spacious floor plan make it a great choice for almost any group. Want to see other tall tents? Check out our list of tall tents you can stand up in.
4. Coleman Elite WeatherMaster 6 Screened Tent
The Coleman Elite WeatherMaster 6 is one of the most robust tents around in this category, so it's easy to see why it made our list.
In addition to the spacious interior that can fit up to two queen airbeds, you get an interior LED system that makes lighting easy and convenient. No more smacking your head on your lantern when you stand up at night!
On top of this, you get Coleman's patented (and much-beloved) WeatherTec rainfly system to keep you cool in the warmer months, such as when summer camping, while still keeping the rain off during those sudden thunderstorms. When the weather is nice, you can leave the rainfly off, leaving the mesh ceiling open for stargazing or to let the sun in.
The screen porch is 9'x6' and has both a floor and a rainfly so it's pretty much perfect as both a hangout space and a place to throw your dirty shoes and gear so you can keep the rest of the tent comfy and cozy.
The weather resistance and ease of setup, along with the multi-room design and excellent porch area make this one of the best family camping tents around.
Final Thoughts
A multi-room tent with a covered porch area is the ultimate car camping basecamp or beach trip hangout spot. These tents are all great for families, large groups, or even just small groups with dogs or lots of gear.
If you're wanting to experience the great outdoors in total comfort, especially if you want to bring your kids or other family members along, a good multi-room tent like the ones we've covered here is your best option.