Camping in summer is an enjoyable experience, but it doesn't come without complications.
Keeping food and drinks cool, for one, can be difficult. Sure, you can use a cooler, but they only keep things cold for a limited amount of time without refreshing the ice, and melting ice can make your food soggy.
But what if you could keep your food and drinks in a refrigerator, just like you do at home? Well, with a portable camping fridge and the right power source, you can do just that! In fact, many portable camping fridges even have freezer sections as well!
There are many camping fridges that keep your food and drink cool, regardless of the climate outside. But how do you know which ones are the best and which ones you should pass on? You use this guide, of course!
Each of the camping fridges / freezers in this review has been chosen due to their ability to keep refreshments cool for long periods while camping.
Now without further ado, let's dive in!
Best Camping Fridges
1. ARB Dual Zone Portable Fridge/Freezer
Our top pick for the best camping fridge is also our largest by far.
The ARB Dual Zone Portable Fridge/Freezer has a 101-quart capacity, which translates to space for 144 standard-sized 12-ounce soda cans. And remember that, unlike a regular cooler, you don't need to account for space for ice, so that's pretty much all usable storage space.
It's a dual-zone fridge/freezer, meaning that it has two sections, each with its own lid and independent cooling system. Each zone can be set to "fridge," "freeze," or "off," so you can have a fridge side and a freezer side, use one side as regular storage space while the other is set to cool, or set them both to the fridge or freezer.
Even if you decide to set them both to fridge or freezer, the dual-zone aspect is still useful. Only opening half of the cooler at a time prevents cold air from escaping the other half, keeping food and drinks colder with less power.
It's also useful for organizing your items. For example, you could keep cooking ingredients on one side and snacks on the other, or meat on one side away from your fresh fruits and veggies.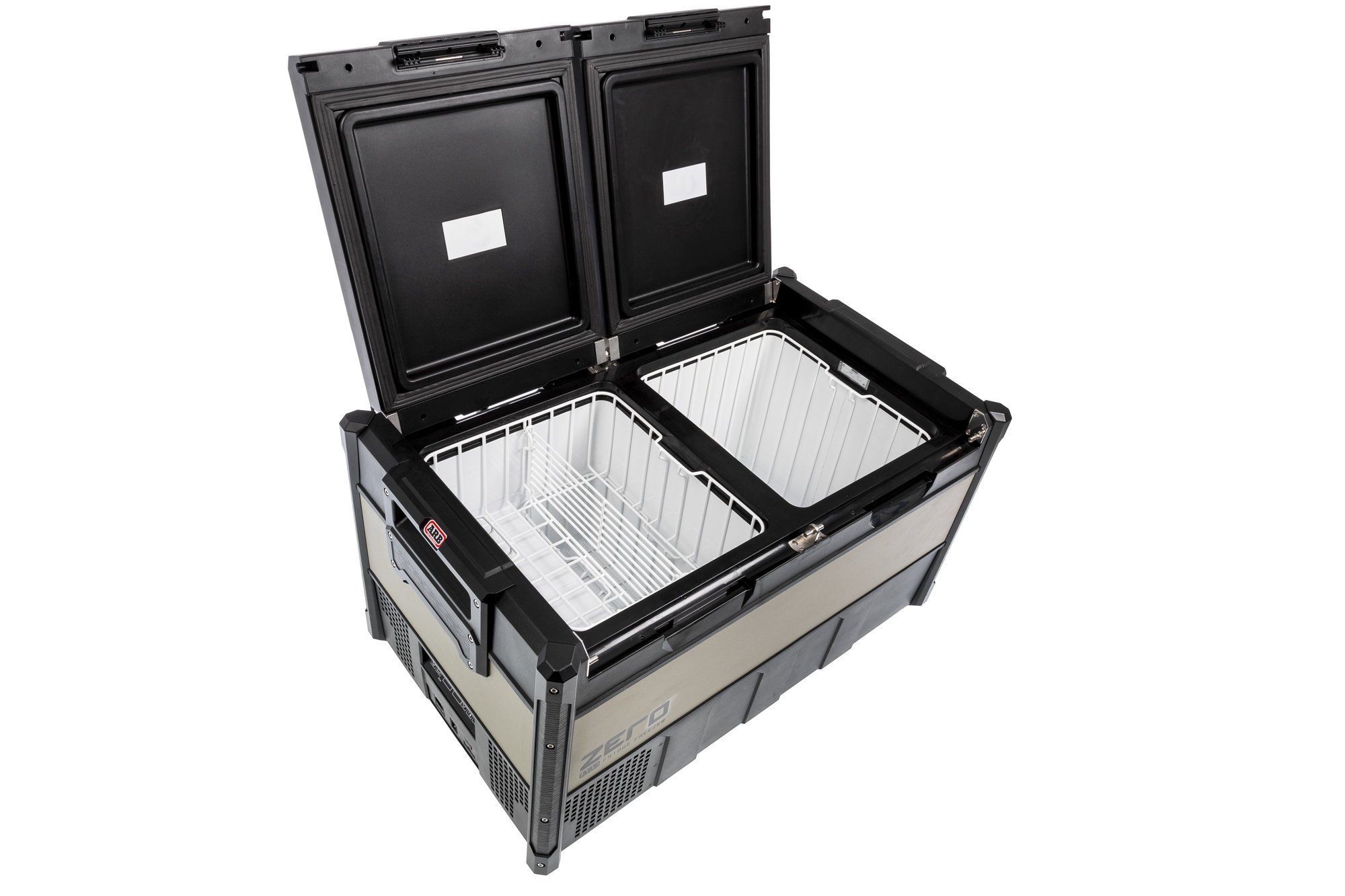 And speaking of organization, the ARB Dual Zone Portable Fridge/Freezer also has a removable inner basket system to keep things organized within each zone. The low power consumption LED interior light helps you see the contents, even in the dark, and the drain plug in the bottom of the unit allows for easy cleaning.
The removable lid has quick detached bolts and is reversible so you can set it up for access from either side of the refrigerator. Each lid has three non-slip cup/bottle grooves and a quick-release lid handle for easy access to the refrigerator's contents. The recessed carry handles have integrated tie-down points.
This refrigerator has a dual DC power inlet at either end and a front AC power inlet. It uses an energy-efficient, variable-speed compressor with anti-condensation technology and has an integrated battery protection system. A boost function helps the refrigerator/freezer cool faster.
The LED display and temperature control feature a 5v USB outlet for charging mobile devices. There's also  Bluetooth connectivity for wireless monitoring and control from your smart device.
The three non-slip cup/bottle grooves on each lid have a high-quality steel outer casing for durability and come with a three-year warranty.
All of these features come at quite a cost, though, both literal and figurative. This cooler comes with a hefty price tag of more than $1,600 (at the time of writing) and weighs a whopping 95 pounds. This cooler is definitely not meant to be carted around and is best for serious RVers and overlanders.
It's also available in 47 quart and 63 quart single zone versions for those who don't need as much space.
2. Dometic CFX 28 12v Electric Powered Cooler
The Dometic CFX portable compressor fridge is a powerful yet energy-efficient option that keeps your food and drinks at the perfect temperature, even at extreme ambient temperatures.
With a 26 liter (about 27 quarts) or 43 can capacity, it's one of the smaller refrigerators on this list. With exterior dimensions of 16.7″ H x 24.4″ W x 13.5″ D and a weight of just under 29 pounds, this fridge's small size is great for portability, but limits storage space, so this mini fridge is best for one or two people on a day trip.
You could even use it as a car refrigerator to place groceries in to keep frozen, refrigerated, and fresh food cold on hot summer days when the inside of your car can be much hotter than the outside temperature, or to pack lunch or snacks inside to avoid spending money on unhealthy fast food while you're out and about.
Related: Summer Camping in Hot Weather? Here are 26 Tips to Stay Cool
One of the major advantages of the Dometic CFX, aside from portability, is the heavy duty construction. It has reinforced corners, stainless steel hinges, a removable powder coated steel handle, and glass filled nylon mounting brackets.
Like the ARB model above, the Dometic CFX has an interior LED light, drain plug, USB port that allows you to charge mobile devices, removable wire baskets, and the ability to wirelessly control and monitor the fridge's temperature settings, though with wifi instead of Bluetooth. There's a convenient, unobtrusive temperature display and control panel directly below the lid handle.
Another cool feature is the 3-stage battery protection system that automatically shuts the mini-refrigerator off to prevent your car battery from dying from the portable cooler's power usage.
Don't worry about the food inside though, because this fridge is well insulated enough to keep cold air trapped inside so refrigeration continues. And when the power comes back, the memory system returns the cooler to the previous thermostat settings.
The Dometic CFX runs on 12v DC, 24v DC, or 120v AC currents. 12/24v DC and 120v AC adapter power cords are included, but the fridge can also be used with solar panels.
3. Engel MR040F Portable Fridge-Freezer
Our next pick, the Engel MR040F Portable Fridge-Freezer is a rugged yet energy-efficient medium-sized camping fridge option.
With a 40 quart capacity and ABS plastic outer shell, this portable fridge was specifically designed with marine uses in mind, but it can also be used in campers, RVs, and cars among other places. It's even vibration-resistant, so it's great for off-roading.  At 55 pounds, however, it's not particularly portable, so it's best suited for uses where it can stay in one place for a while.
A removable wire basket lines the inside of the cooler, making it easy to temporarily remove items that belong in the cooler without having to move the entire cooler. That's great for cleaning the inside of the cooler, gathering items that need to be stored in the cooler, and more.
The Engel Swing Motor Compressor uses about 40% less power than a traditional thermoelectric cooler compressor, typically drawing just 1 to 2 amps per hour, while the variable temperature control operates up to 80 degrees Fahrenheit to keep drinks and food cold. This camping fridge features automatic AC/DC voltage selection, and as our last pick, it's also solar compatible.
Other great features include the heavy-duty removable handles and three year warranty.
4. Alpicool C20 Portable Refrigerator
Last up is our smallest, but also a most budget-friendly option by far, the Alpicool C20 Portable Refrigerator.
This camping fridge has a 21 quart (or 25 can) capacity and is only about a quarter of the price of the second most affordable fridge on this list, the Dometic CFX 28 12v Electric Powered Cooler. In fact, Alpicool also makes similar portable 12v coolers in other sizes, up to 58 quarts, all of which are cheaper than the other options listed here. There's also a smaller 16-quart model.
So how does Alpicool manage to make this fridge so affordable? Well, the plastic exterior isn't as durable as the exteriors of the other coolers on this list, and this camping fridge doesn't have some of the convenience features of our other options, like baskets, drain plugs, wireless connectivity, and interior lighting (though some of the larger models do have some of these features).
Still, it's not messing around. The Alpicool C20 Portable refrigerator is capable of chilling all the way down to -4°F so it can be used as either a fridge or freezer. It's highly insulated and reliably seals so the interior stays cold for over 10 hours after power loss. It also uses little power, just 1kWH for 2 to 4 days depending on settings.
The extra features that this camping fridge does have are the important ones, like 3 level car battery protection to ensure that it doesn't kill your car battery, and a temperature memory function so it goes back to your previous setting when power is restored. The LCD control panel and the display are easy to use and feature a USB port.
While the plastic exterior isn't as durable as the other options, it's still pretty sturdy. The technical parts of the refrigerator are shockproof and able to function on slopes up to 45°, so it's still a pretty rugged fridge. At the same time, the camping fridge is very quiet, producing less than 45 dB of sound.
The fridge is also very lightweight compared to the other fridges on this list. For example, the 42-quart model is more than 20 pounds lighter than the 40 quarts Engel MR040F, so this is a better option for people who want to be able to move their camping fridges around.
Final Thoughts on the Best Camping Refrigerators
And that brings us to a close on the best camping refrigerators. Any of these is a great option for your next camping or road trip, so just consider your budget, needs, and preferences for extra features to decide which one is best for you.
And be sure to check out our other review lists for more great camping gear. For other hot weather camping items, check out The Best Tent Fans and The Best Tent Air Conditioners. For other camping cooking gear, be sure to take a look at The Best Gas Camping Stoves and The Best Titanium Backpacking Cookware.